Access Control
Access control restricts access to any place or resource.
Uses and applications of access control.
Commercial A facility typically allows personnel or visitors access to certain rooms that are restricted via an electronic lock. A credential, such as RFID (fob) key, biometric input, or pin code is presented to an access control reader, which reads the provided credential and either grants or denies access. All attempts to gain entry are logged and can be reviewed in real-time or kept for later review as part of audit trails. Additionally, time keeping information is gathered to track the duration of time spent by personnel in the facility or any secured room.
Residential Other types of access control include intercom access control, which has wide use in single and multi-residential apartment buildings, where typically the residents or tenants have RFID (fob) keys to gain entry to the main lobby entrance. Visitors, guests, delivery personnel, etc are let inside by the residents/tenants, who are able to communicate with outside callers via their in-apartment call stations or via their mobile phones when there is a call to open the door. Video and audio surveillance is logged with all entry attempts and an audit trail is made available for review. Changes to the call directory and access lists are made seamlessly via an easy to use centralized software based control panel.
Crime Prevention. Most areas that are vulnerable to crime can benefit from the benefits of knowing and seeing who is at the door.
Package Theft Prevention. Package theft is an increasingly more common problem. Modern access control intercoms make calls to the residents/tenants on their mobile numbers, so when a delivery man rings the door, they can visually see and audibly hear who is at the door and let them inside to secure the package.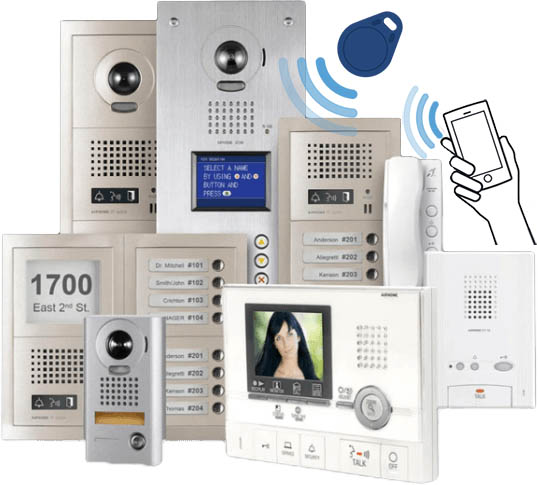 To learn more about Access Control Systems, please feel free to contact us with any questions or to obtain a consultation. Ask us about our professional Access Control installations and full service support throughout the surrounding Chicago land area.
Experience the Tigerbyte advantage:
Customized Solutions. There is no "one size fits all" solution in the Access Control industry. Every business is unique, so we offer custom solutions from the latest in Access Control technology for your specific business requirements.
Professional Installations. A proper installation is essential to sustain a reliable, working system. We perform full service and installations of access control systems in Chicago and the surrounding suburbs and cities throughout Illinois, northwest Indiana, and southeast Wisconsin.
Service & Support. The Tigerbyte promise is to keep our customers happy. When there's a problem, we fix it by providing same day problem diagnosis and resolution through remote access and on-site expert tech support.
Warranty. We provide a full year warranty to keep you running with peace of mind.
Free Consultations & On-site Demonstrations
Call us today and discover what we have to offer with a free on-site consultation and product demonstrations.