Point of Sale Systems
What is a POS System?
A Point of Sale System (abbreviated as POS System), is the equipment at a checkout counter, check stand, or host/hostess stand on which a cashier or host/hostess completes sales or service transactions. Point of Sale Systems are used primarily in two industries: Retail and Hospitality. A typical POS System has one or more POS Terminals along with several POS peripherals such as receipt printer, cash drawer, barcode scanner, or other optional devices, and a POS Server. A POS System can handle various functions such as sales, refunds, exchanges, discounts, product promotions, advertising, price changes, customer accounts, preferred shopper rewards, gift cards, and much more. Point of Sale Systems vary depending on the type and size of business. For example, a retail business such as grocery or supermarket store typically needs to weigh produce, scan the barcodes of items, and handle multiple payments types (credit, debit, ebt link), etc., whereas a Hospitality business such as a bar or restaurant primarily uses software to customize the item or service sold when a customer has a special meal or drink request.
To learn more about Retail and Hospitality Point of Sale Systems, please refer to the following sections below. Feel free to contact us with any questions or to obtain a consultation. Ask us about our professional POS System installations and full service support throughout the surrounding Chicago land area.
The retailing industry is one of the predominant users of POS Systems. Retail oriented businesses range from small corner shops all the way up to large supermarket chain stores. A Retail POS System is also suitable for convenience stores, ethnic markets, specialty shops, liquor stores, grocery stores, supermarket stores, warehouse stores, wholesalers, deli's, bakeries, health food stores, pharmacy & drug stores, department stores, and other similar retail businesses.
A Retail Point of Sale System typically includes a POS Terminal and at least several POS peripheral devices such as cash drawer, receipt printer, customer display, and a barcode scanner. The majority of retail POS systems also include a debit/credit card reader or integrated credit card processing system and customer pinpad with digital signature capture. A supermarket grocery store might also have a weighing scale or a dual action scanner scale. The POS Terminal typically uses touch-screen technology for ease of use and a computer is sometimes built into the monitor chassis for what is referred to as an all-in-one unit. All-in-one POS Terminals save space and are better suited for smaller stores. The POS Terminal can typically handle a myriad of customer based functions such as sales, returns, exchanges, layaways, gift cards, gift registries, customer loyalty programs, promotions, discounts and much more.
The POS Terminal handles the sales to the consumer but it is only one part of the entire POS system used in a retail business. A "Back-office" computer (also called POS Server) typically handles other functions of the POS system such as inventory control, purchasing, receiving and transferring of products to and from other locations. The POS server can allow additional functions such as pre-planned promotional sales, shelf labeling, inventory management, sales reporting, cost/profit analysis, and much more. Customer information may be stored for receivables management, marketing purposes and specific buying analysis. A Retail POS System can include an accounting interface that "feeds" sales and cost of goods information to independent accounting applications such as Intuit Quickbooks.
Diagram of Retail POS System with Peripherals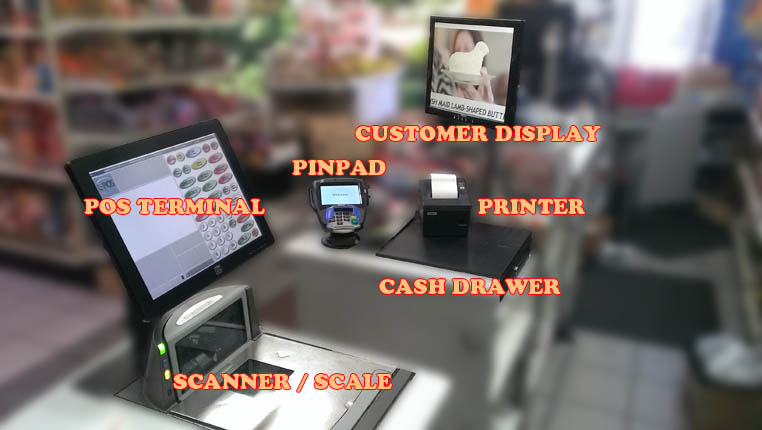 POS Terminal

A Point of Sale Terminal is an essential part of any POS System and comes in two form factors: All-In-One and PC-Based.

The All-In-One POS Terminal is a compact unit with computer and touch screen display integrated together. The All-In-One Terminal has a rugged and slim design for maximum space efficiency, making it suitable for small space requirements.

The PC-Based POS Terminal is a standalone computer with a separate display. The PC-Based variant offers superior connectivity, not only providing full support for legacy peripherals, but uniquely future-proofed for innovative new options. Its modular design makes service and maintenance quick and effortless, taking downtime to an absolute minimum and further reducing the total cost of ownership.




Cash Drawer

A Cash Drawer is an essential peripheral of a POS System. It typically opens after each transaction is completed and contains bills and coins in the cash tray and coin till compartments. On the front, there are typically front slots to insert documents & media, which get stored under the cash tray. Cash drawers usually also have a security lock such that when locked can only be opened by key. They also vary by size, build quality, and cash tray configuration.

Printer

A Printer is an essential peripheral of a POS System. The two most commonly used types of printers are thermal and dot matrix. Thermal printers transfer heat to a coated thermochromic paper (also called thermal paper), thereby eliminating the need for printer ribbons or ink cartridges, and producing very quick, efficient, and low cost printing. A thermal printer is primarily used to print out a receipt for the customer. Dot matrix printers use a print head that prints by impact, striking an ink-soaked ribbon against the paper. A dot matrix printer is used where thermal printers are not suitable, such as in hot environments, e.g., a restaurant kitchen where a food order needs to be received.

Barcode Scanner

A Barcode Scanner (or Barcode Reader) is an optional POS peripheral for reading printed barcodes. It consists of a light source, a lens and a light sensor translating optical impulses into electrical ones. Additionally, a barcode scanner contains decoder circuitry analyzing the barcode's image data provided by the sensor and sends the barcode's content to the POS Terminal.

There are several different types of barcode scanners:

A Handheld Barcode Scanner has a handle and typically a trigger button for switching on the light source.
A Stationary Barcode Scanner is a wall or table-mounted scanner that the barcode is passed under or beside.
A Cordless Barcode Scanner (or Wireless scanner) is battery operated and is connected wireless to the POS terminal.

Weighing Scale

A Weighing Scale is an optional POS peripheral that allows simple and secure sales of weighed items at the POS terminal. A Weighing Scale connects directly to a POS terminal and transmits an item's weight by which the POS computes a price.

Scanner Scale

The Scanner Scale (or flatbed scanner) is an optional POS peripheral that combines the functions of a barcode scanner and weighing scale into one unit. The Scanner Scale fits flush into the counter near the conveyor belt of a checkout stand for convenient and quick use by the cashier.

Credit/Debit Card Reader / Payment Terminal

The Credit/Debit Card Reader (or Magnetic Stripe Reader, MSR) is an optional POS peripheral that is used in credit, debit, and EBT Link/Foodstamp card transactions. A card reader is used to decode a card number from its magnetic stripe. The card reader is typically mounted directly on the POS Terminal, which requires that the cashier ask for the customer's card and swipe it for them.

A separate device called a Pinpad is then used to accept the personal identification number (PIN) that is required for debit cards and EBT Link/Foodstamp cards. It typically faces the customer, who enters their pin after the card has been swiped.





An alternative approach is to use a modern Payment Terminal that includes a Credit/Debit/EBT Link Card Reader along with Pinpad and a signature capture screen. Such Terminals give customers a rich and interactive experience.

Payment Terminals integrate into the card processing system of a POS System, which seamlessly handles card authorizations and charges, saves customers' digital signatures along with each transaction's details for later review, and helps protect against card charge backs and disputes from the customer. A POS System with integrated Payment Terminal facilitates quick transactions, eliminates the need to retain physical signatures, and avoids multiple receipts by using only the POS Terminal's receipt printer. The overall experience is more pleasant for the customer and easier for both cashier and store manager.

Customer Display

A Customer Display is an optional POS Peripheral and is used primarily to display the receipt details on a screen. As a cashier scans or enters an item on the POS Terminal, the Customer Display shows the item's description and price for the customer to see. The calculated subtotal, tax amounts, and total are also displayed. In addition, a Customer Display can be used to display advertisement video clips, images, and/or text besides the receipt contents for marketing purposes.

POS Server

A POS Server (or Back-Office) is the back end of a POS System. It runs the store management software for the POS System and holds a database of all products, departments/sub-departments, tax rates, cashiers, etc. and communicates with all the POS Terminals in the system. All transaction data is sent to the POS Server, which receives them for reporting and sales analysis. The POS Server is capable of a wide range of functionality and generally allows a store manager to add new products, change existing product pricing, schedule promotional sales, generate sales reports, analyze the cost/profit, and much more. A POS Server may additionally support advanced features such as inventory control (including purchasing, receiving and transferring of products to and from other locations), shelf label printing, customer accounts, loyalty rewards program, web hosted receipts, rental item tracking, accounts receivable, cashier loans and pickups, employee timeclock management, and more. A POS Server may also support remote price kiosques, which allow for convenient price checks throughout the store, and mobile computers, which are typically used by employees to do price checks/changes, inventory receiving, and more away from the server. The POS Server can also include an accounting interface that "feeds" sales and cost of goods information to independent accounting applications such as Intuit Quickbooks.

Stores with multiple locations can have their POS Systems interconnected via the Internet. A Multi Store Point of Sale System can greatly simplify the challenges of operating multiple stores. For example, chain stores may need to have centralized data entries to reduce errors and efforts, or regional offices may need on-demand remote site connection to allow on-the-fly price updates. Similarly, company headerquarters may need to access up to date and centralized reporting to assure that margins are being maintained. A Multi Store POS System makes it all possible.

Price Kiosk

A Price Kiosk terminal is an optional POS device that allows customers to do price checks and look up product information while shopping. Some Kiosks are touch screen enabled and can serve more general purposes such as keep employee time and attendance or provide general information to customers. Wireless enabled terminals can be compactly placed almost anywhere in the store, making them easily accessible and space efficient.

Mobile Computer

A Mobile Computer is an optional POS device that allows a store manager or employee to scan items off the shelf and do real-time changes, such as pricing, inventory, receiving, ordering, counting, transferring, and more. Likewise, new items can be added and seamlessly deployed throughout the POS System to all Terminals. A Mobile Computer is typically touch screen enabled and equipped with stylus pen, alphanumeric keypad, laser barcode scanner, and wireless adapter (WLAN), although higher end models may also have a built in GPS, camera, Bluetooth, and GSM/CDMA adapter (WWAN).
A Hospitality Point of Sale System is a computerized system incorporating POS Terminals, peripheral equipment, and "Back-office" computer (also called POS Server) to be used in restaurants, fast food places, bars, clubs, cafes, and similar businesses. Like a retail Point of Sale System, these systems keep track of sales and can generate records used in accounting and book keeping.
Point of Sale Systems have revolutionized the restaurant industry, particularly in the fast food sector. Registers are now computer based touch screen terminals with compact and stylish designs. The POS Terminals connect to a server, often referred to as a "Back Office" or a "POS Server." Printers and monitors are also found on the network.
Typical restaurant POS software is able to create and print guest checks, print orders to kitchens and bars for preparation, process credit/debit cards, and run reports.
In the fast food industry, displays may be at the front counter, or configured for drive through or walk through cashiering and order taking. Front counter registers take and serve orders at the same terminal, while drive through registers allow orders to be taken at one or more drive through windows, to be cashiered and served at another. In addition to registers, drive through and kitchen displays are used to view orders. Once orders appear they may be deleted or recalled by the touch interface or by bump bars. Drive through systems are often enhanced by the use of drive through wireless (or headset) intercoms. The efficiency of such systems has decreased service times and increased efficiency of orders.
POS systems are designed for a variety of businesses and are versatile enough to be programmed to suit individual needs.
Experience the Tigerbyte advantage:
Customized Solutions. There is no "one size fits all" solution in the Point of Sale industry. Every business is unique, so we offer custom solutions from the latest in Point of Sale technology for your specific business requirements.
Professional Installations. A proper installation is essential to sustain a reliable, working system. We perform full service and installations of point of sale systems in Chicago and the surrounding suburbs and cities throughout Illinois, northwest Indiana, and southeast Wisconsin.
Service & Support. The Tigerbyte promise is to keep our customers happy. When there's a problem, we fix it by providing same day problem diagnosis and resolution through remote access and on-site expert tech support.
Warranty. We provide a full year warranty to keep you running with peace of mind.
Free Consultations & On-site Demonstrations
Call us today and discover what we have to offer with a free on-site consultation and product demonstrations.